There are several things that have been changing recently in the arena of global e-commerce, so it's worth taking a look at what these changes are and how they might affect retail Small and Medium-sized Businesses (SMB's) going forward.
These days, 51% of Americans prefer to shop online rather than in stores – a figure that jumps to 67% for Millennials and 56% for Gen Xers. According to some experts, online sales will increase from $335 billion in 2015 to $523 billion in 2020, a rise of 9.32% per year.
"We are reaching a nexus point created by a massive increase in online selling combined with huge improvements in logistics support."
These figures drive home the point that SMB retailers need to fully embrace digital commerce in order to truly thrive; many stores without an online presence are destined to disappear in the medium to long term. Today's consumer owns several devices – smartphone, tablet, computer – and expects an online shopping experience that's quick, easy, and, above all, user friendly. In addition, consumers are enabled for comparison shopping in a way they never have been before. We are reaching a nexus point created by a massive increase in online selling combined with huge improvements in logistics support. Fueled by companies like Amazon and Alibaba, the status quo for online selling going forward won't be good enough. SMB owners and executives know who they are competing with today. A good question is: who will they be competing with tomorrow? Let's take a look!
Enhancing the Digital Experience
If you want to survive in this new, highly competitive global selling environment you must know something about your customers use of technology during the completion of a sale. Wolfgang Digital performed research during the 2nd half of 2016 and found that although mobile (phone and tablet) accounted for 59% of all sessions by device on e-commerce sites, these mobile browsers made up just 38% of revenue. Desktop was still dominating for conversion even though mobile browsing is the norm for research. The distinction was even bigger when it comes to high-cost purchases such as holidays. For online travel businesses, desktop made up just 41% of web traffic, but dominated sales, accounting for 67% of revenue.
Although Smartphones have the lowest conversion rate of any device, Wolfgang's correlation study found strong correlations between high percentages of mobile traffic and high overall website conversion rates. This seems like a contradiction in terms, but it is not. It's caused by people researching on Smartphones, making the key decisions related to the purchase, and then actually buying on a desktop later.
Laptops and PCs, while still prevalent in North American households, now account for less than 25% of total internet traffic. Toss in smart personal home assistants such as Amazon's Alexa and similar solutions and the average home in North America has over seven "active devices in use each day." A mind-boggling 6% of homes use more than 15 connected devices on a daily basis!
"Research clearly shows people make key decisions about purchasing on their Smartphones, only to then purchase on a desktop later."
Key Takeaway
Marketers need to stop thinking of 'mobile users' and 'desktop users' as different people, because they're often not. A 'mobile user' one minute is a 'desktop user' the next. The distinction from an e-commerce standpoint is largely artificial. A focus on brilliant mobile UX may help a few more mobile customers to convert without switching to desktop, but for higher value items the focus should be providing a seamless experience across devices so users can browse on mobile and convert on desktop. Research clearly shows people make key decisions about purchasing on their Smartphones, only to then purchase on a desktop later. This may also tie in to the fact that mobile devices are, well, mobile. People might not be as comfortable purchasing when they are moving around. They might be thinking, surfing, or whatever. But later, when they are stationary, they are ready to buy. Your email strategy should reflect this. Proactively send an email featuring products the user spent time looking at on a mobile device, as it may well be opened when they are on a desktop and they are ready to convert.
The Global Growth in E-Commerce
The chart below showing the predictions of global e-commerce sales growth has China driving the overall growth, accounting for a huge chunk of global e-commerce sales. China's growth is so rapid that total e-commerce sales there are expected to double between now and 2019, adding $1 trillion dollars worth of additional sales in just three years!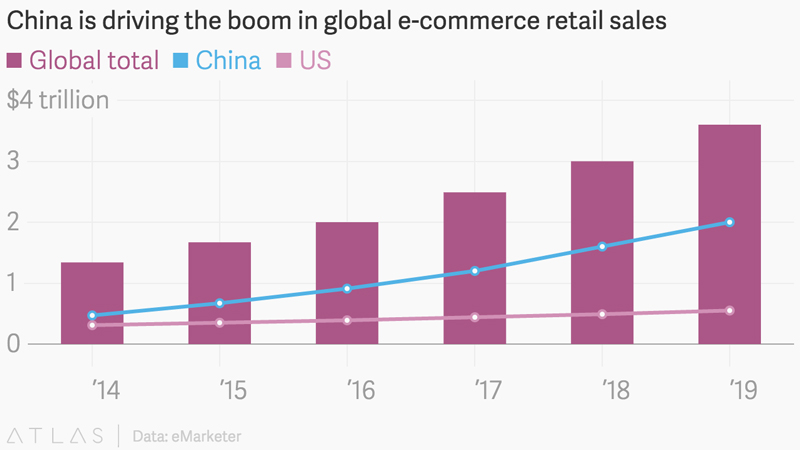 Fueling that growth in China is the huge rise in the number of online buyers and sellers, many of whom come from rural areas that don't have access to urban facilities. Though they don't have the same level of wealth as their urban counterparts, shoppers in China's less developed areas spend nearly as much on online purchases, and also spend a greater share of their disposable income, according to a 2013 report by research firm McKinsey. Their top categories for online shopping include apparel, tea, cosmetics, and food, and buying online is especially popular when local products don't have the highest quality or safety standards, as is often the case for makeup and baby products. Other countries, like India, are charting a similar growth rate in online buyers although they are slightly less than half the overall numbers of Chinese online buyers.
The Amazon Effect
The stakes have never been higher for individual retailers. New competitors continue to disrupt the status quo, because they don't require stores or warehouses, and can be based around the corner – or on the other side of the planet. Online players are popping up in every product category. The Amazon graphic below, based on data from this year's Total Retail survey, illustrates how brick and mortar retailers are competing with Amazon for market share.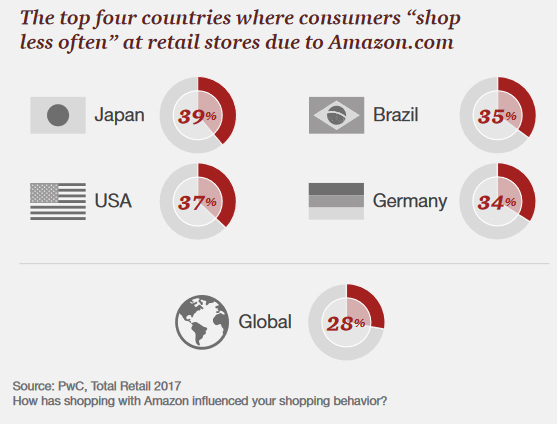 Globally, 28% of PwC's respondents said that they shop less often at retail stores because of Amazon; in the U.S. that figure was 37%. When it comes to China's Amazon equivalent, Tmall.com, a subsidiary of Alibaba, 24% of respondents from China said that they now shop less often at retail stores because of Tmall.com.
The upside of all this is that companies like Amazon and Tmall.com are making the digital pie bigger for everyone else, albeit at the expense of brick and mortar stores. But in order to take advantage of this larger pie, you have to first of all be in the e-commerce market, and as we'll see, you'll need to be thinking international.
"To take advantage of the trends in e-commerce retailers will need to go international to stay competitive…"
Key Takeaway
The huge shift in e-commerce growth towards Asia has massive ramifications for e-commerce brands. To take advantage of the trends in e-commerce, retailers will need to go international to stay competitive – something easier said than done. The beauty of e-commerce is you don't necessarily need any physical infrastructure to start selling to a new country. With cheap shipping rates making borders increasingly irrelevant, it's not as hard as it once was to break into new countries and markets. However, that should not invite complacency. Well translated websites, strategies in tune with local expectations, and an understanding of the local tax laws are important. For example, in some countries the use of "no VAT charges on international shipments" can be used to subsidise delivery costs, while in others that strategy won't work. Note: VAT rules vary from country to country, and change from time to time, so make sure you know the rules. Governments typically want to charge VAT based on the location of the purchaser of the product. Here are the rules for some countries at the time of writing of this article – but check with your accountant to stay up to date!
New Competition
Going international cuts both ways – you can expect more and more domestic competition from international sources. Consider Alibaba, who recently set sights on increased international brand recognition. Last year, the company announced that former basketball player Kobe Bryant and the music group OneRepublic would join singer Katy Perry as global ambassadors. Around the same time, Amazon announced it would launch a version of Amazon Prime in China in an effort to compete more aggressively with Alibaba there.
All the same rules apply when international competitors come to your market. Take language translation for example. Alibaba has tools to help tackle traditional communications barriers, including 15 different language sites that help suppliers connect with businesses whose preferred language is not English. Amazon has been working on translation technology as well, after acquiring a translation start-up called Safaba 2 years ago. Rumours are a technology announcement could be revealed this month at the annual re:Invent conference in Las Vegas. Alibaba doesn't stop at translation, and brings to the table tools like AliSuppliers Mobile App, which allows suppliers to manage their buyer inquires, and AliSource Pro, a sourcing tool that helps suppliers and buyers find each other. Coming along with Aibaba's B2B site will be:
Taobao, a C2C site similar to eBay,
Tmall, a B2C site that allows foreign companies to sell to Chinese consumers,
AliExpress, a B2C site that offers international shoppers goods at factory prices without a minimum order size
Key Takeaway
Jack Ma and Jeff Bezos are taking this whole international thing very seriously. Perhaps you should too.
So What's an SMB To Do?
If you don't have an e-commerce presence, but think you should have or could have, you better get started now. Contact us to help you get started. We're experts with e-commerce technology, and if we can't help we'll be happy to assist you to find someone who can. If you already have an e-commerce presence, consider whether your product or service could sell internationally, and conversely, consider whether you could buy products internationally, and sell locally. If you think you could do either, then get planning. Is your product something that you could sell internationally through Amazon Prime? If so, then the internationalization features of Amazon and their logistics support could assist you. Is your product something you could source from Alibaba and sell either locally or internationally? If so, then maybe you could take advantage of Alibaba's internationalization features and logistics support. Make sure that you provide an online shopping experience that's quick, easy, and, above all, user friendly. Part of that experience means planning on your customers making the bulk of their purchasing decisions on their mobile devices, and (perhaps) returning later on a desktop device to complete the sale. A well timed email might make the difference as to whether they convert.
It's time to think outside of the box, and not wait for the future to come to you! You might not like the outcome.
In Closing
David Silverman, senior director of U.S. Corporates at Fitch Ratings, wrote in late 2016 that retailers that find themselves left behind by technology and an inability to provide a world-class customer experience will become market share "donors" to those retailers that have been able to adapt. "The dividing line between best-in-class retailers and market share donors is increasingly going to be determined by which retailers can cater to the evolving landscape," wrote Silverman. "Those that find success have invested in the omnichannel model and have differentiated their products and customer service to draw customers in."
Glenn Reid is the CEO of RJB Technology Inc., a Canadian firm with Branch Offices in Makati, Philippines. Contact us today for more information about our company, or to discuss your custom software development needs.